pain relief
& skin protectant
silversol, hyaluronic acid, refreshing peppermint, soothing arnica..
what more could you ask for?
picture this.. you get to skip the dilemma of struggling to choose among a shelf full of products & instead, purchase the mother of all lotions - one product to moisturize your skin, protect from germs & bacteria, repair cuts or bruises & to relieve pain all at the same time! sounds too good to be true? well, restore healing lotion is about to blow your mind.
designed with your complete comfort in mind, restore offers deep pain relief with essential oils, grease-free hydration from hyaluronic acid & skin healing benefits thanks to nano-silver technology. restore can handle it all.
best of all it's safe for the whole family so this will be the most used product all. year. long.
no hidden ingredients here
in fact, every ingredient is carefully selected to craft our products with nature's finest.
we only use good-for-you ingredients & never chemicals, toxins or fillers
always be prepared with for whatever life brings. when we say restore targeted healing lotion can handle it all, we mean it! you just massage generously as needed for targeted joint pain, bites, bruises, cuts & scrapes. restore will moisturize, protect, repair, relieve...that's four incredible products in one powerful lotion with each application lasting up to 2-3 hours.
don't worry it's 100% safe to use as many times as you need 💜
ABL silver solution
for antibacterial &
anti-inflammatory properties

arnica montana
for pain & bruising
caffeine oil
to increase blood flow & mobility

camphor oil
to warm joints

emulsifying wax
to bond the formula & moisturize the skin

eucalyptus oil
for antibacterial, moisturizing & anti-inflammatory properties
glycerin
extracted from vegetables to hydrate & soften the skin
grapeseed oil
to improve skin's elasticity
hyaluronic acid
made from plants & helps with soft tissue growth as well as collagen stimulation to prevent tightness
menthol crystals
for cooling & warming relief

peppermint oil
for antiseptic & antibacterial properties
stearic acid
for improved skin moisturization & anti-aging benefits
tea tree oil
calming redness, swelling & inflammation
vitamin e
for prevention of inflammatory damage after UV exposure
proprietary scent
made from clean essential oils
lidocaine

brands containing this ingredient need to be properly dosed, can't be combined with many other medications & need to be observed closely for side effects. lidocaine can block pain receptors by numbing nerve endings & altering your body's natural response to injury or pain.
NSAIDS
non-steroidal anti-inflammatory drugs are widely used in topicals to relieve pain & reduce inflammation. the primary issue with NSAIDS is that they can cause swelling, ulcers, bleeding or holes in the stomach! these problems may develop at any time during treatment without any warning. if people, especially older, use NSAIDS over a long period of time, they are at a higher risk of stroke & heart attack. people that have any heart conditions are directed to avoid taking any topical with NSAIDS.
paraffin petrolatum
petroleum is a flammable liquid & known carcinogen; meaning it is a substance that promotes the formation of cancer. while it can be safely refined into petrolatum, cheap, improper processing can cause long-term health effects. additionally, petrolatum can cause skin irritation & allergic reactions. when you use products containing petrolatum then you're putting your skin & health at risk.
steroids
topical steroids are only effective for so long, excessive use can result in permanent damage to your skin & complexion.
synthetics
a majority of pain topicals contain synthetics such as:
• artificial colorants: Blue 1, yellow 5.
• denatured alcohol: a poisonous combination of methanol & pyridine. It is sometimes used as stove fuel.
• ethylhexylglycerin: artificial preservative.
 
among many unrecognizable ingredients that serve no health benefits & may even prolong health or skin issues.
parabens
these are a group of chemicals that are widely used as artificial preservatives in the body care industry. the primary concern with parabens is that they can disrupt hormones in the body, harm reproductive organs & cause cancer. for example, formaldehyde is a known carcinogen. it can also cause some cases of contact dermatitis, resulting in allergic reactions & rashes of the skin (see formaldehyde).
---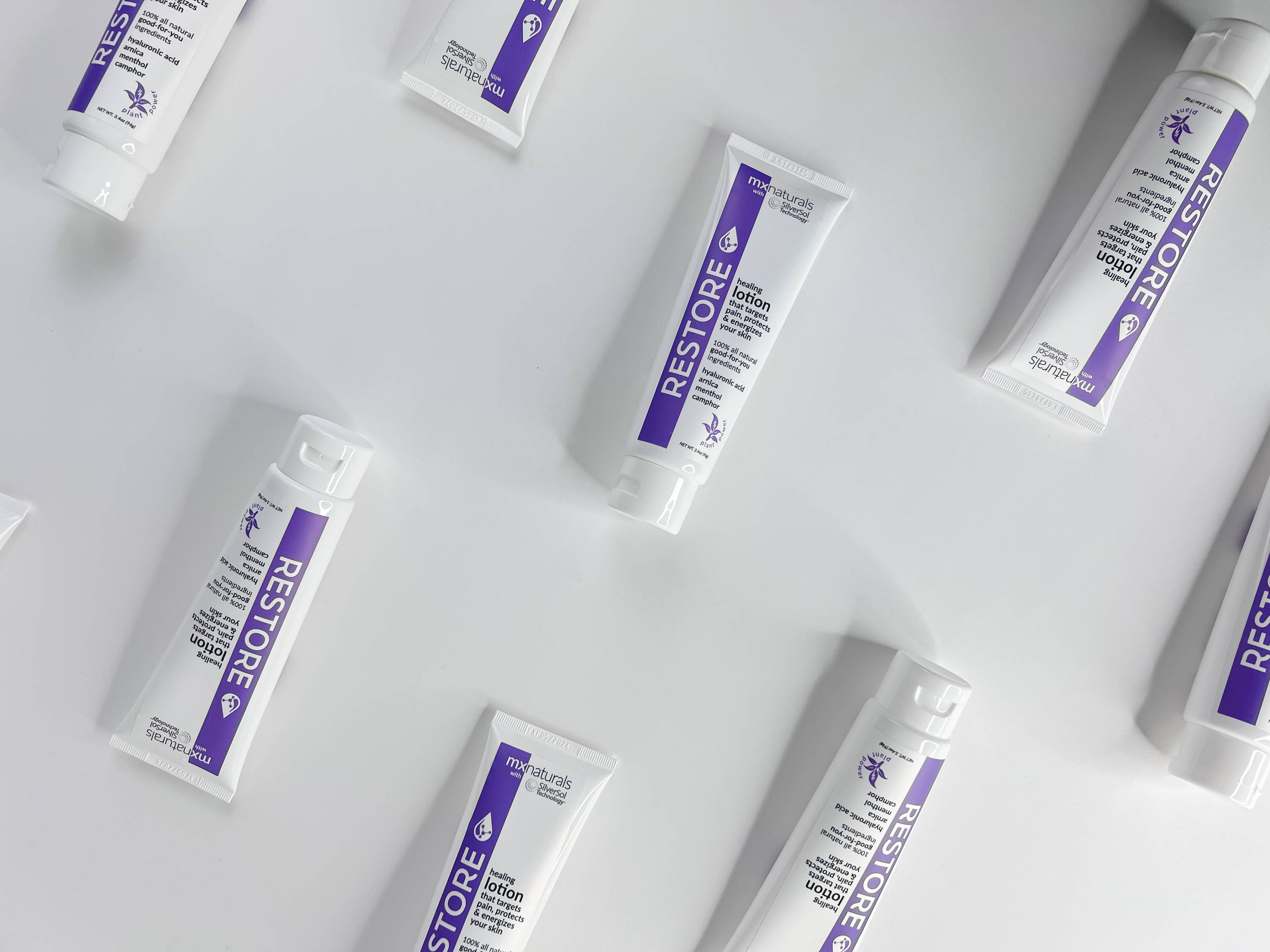 did you forget your hand sanitizer? no worries, that stuff dries your skin out anyway. restore isn't just a hydrating lotion, it's a bacteria killing, skin plumping & inflammation reducing topical that makes you say, "this is damn good lotion!"
trust us, always keep a spare in your car for instant comfort & pain relief.
it's so fast absorbing that even if you wash, it's still there, deep in your skin. target that pulled neck muscle, your pinched nerve & your sunburn where you swore you put sunscreen.
the best part is that it helps to repel pesky bugs like mosquitos & spiders thanks to our rich blend of peppermint, eucalyptus & citrus oils! #winning
hear us out, unlike pizza, you will not get grease all over your PS360 with our revolutionary non-greasy formulation. cheat code: less is more with our lotion.
we comfort carpal tunnel & alleviate arthritic symptoms so you can "keep on keepin' on."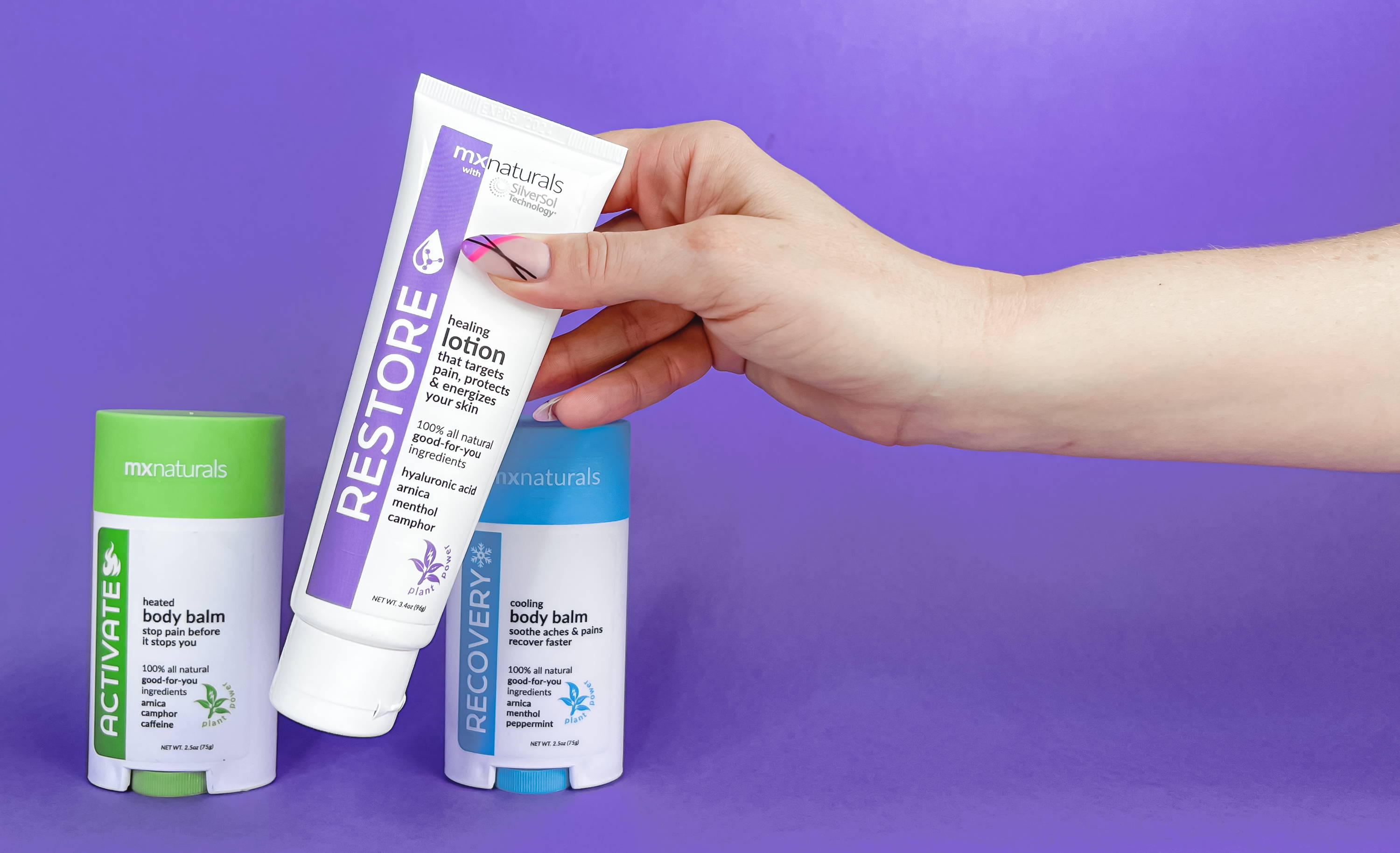 Great product. Great company.  -  25 DEC 2019
"After going through two knee replacements and two back surgeries I needed something to help with lingering pain issues. I found and love this product. It really does help. Never want to run out!" -Jana P.
Just Try it.  - 30 SEP 2020
"Love that silver is included in this formula, scent is awesome, and it just plain works on any pain. Great to use with reflexology just before bed :) after a good bath bomb or two, cozy up with a pair of socks, a good book, and flannel sheets. I've had back pain all my life (horses/waitering/bartending), pitch the patch, say goodbye to old Bengay, and start living again. Best product ever." -Anonymous
Love this stuff!  - 8 MAR 2022
"An athlete's best friend! The amazing smell is a bonus!" -Lydia
Great for Joint Pain  - 1 MAR 2022
"I've struggled with arthritis in my wrists and hands for years, and this is one of the best remedies I've found. It's non greasy and has a great smell. I use it in the morning and before bed." -Chris
Good for wrist pain  - 19 MAR 2022
"This lotion really helps relieve the ache I get in my wrists. It's very cooling and tingly, and also smells really nice." -Anonymous
Amazing Product  - 18 MAR 2020
"Great for sore aching muscles anywhere on your body. After using it, my hands even feel better and less dry. Never want to be without it!" -Lynda H.
Great Stuff  - 11 FEB 2022
"The cream is so good. Give real pain relief. I do have a problem, though. I feel the need to share often. So I have to keep buying more!" -Steven B.
Soothes the pain  - 5 APR 2022
"First, it is not greasy when you put it on like other lotions are. Second, I love the smell. Third, I love the cool feeling it leaves on your muscles, it really helps to sooth the muscle/ligament pain I sometimes have in my arm." -Sara L.
Feels so good  - 16 FEB 2022
"I get a wonderful warming sensation when I rub in your lotion. I love that it feels good, but also that it soaks in so thoroughly and does not stain clothing like some oils do. I am using it to help heal and diffuse nerve and muscle pain in my calf affected by surgery on my foot." -Marlee C.
Great lotion for quick relief.  - 8 APR 2022
"[restore lotion] gave me quick relief from pain caused by muscle inflammation and osteoarthritis. Quality ingredients like silver, peppermint oil, tea tree oil, arnica and camphor helped soothe my tired joints and muscles. The lotion had a pleasant, minty smell, wasn't greasy and was moisturizing." -Ktegerdine
Seems to work  - 11 APR 2022
"The lotion relieved the pain from a puncture wound I got on my hand and prevented it from getting infected (or so it seems). I also noticed the area where I applied it is smoother and softer than any other part of my hand, so it does seem to hydrate." -Denise
Give this a try. I glad I did.  - 8 MAY 2022
"This is a great product. Help to keep tne pain in my hand away. I have tried alot of other producys out there and nothing has compared to [mx naturals]. Not only does it have a great price but it really helped when nothing else would. I would recommend this to anyone." - Holly
---
we know you'll love these too